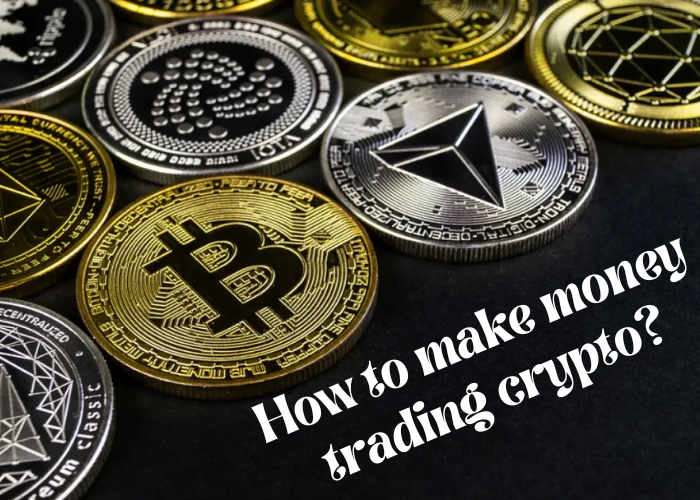 Cryptocurrency is a digital currency that is backed by Blockchain technology. Investors can purchase digital currency from Crypto Exchanges or through brokers. Crypto Exchange is where buyers and sellers meet to trade cryptocurrency. Exchanges charge lesser than brokers, but the web page interface may come off as confusing for novice investors without a trading background.
Exchanges offer user-friendly interfaces for easy trading. But these interfaces may require the investor to spend a few extra bucks for convenience. Investors must learn to understand and analyze the complex interface to save costs.
Given the volatile nature and the short-term fluctuations, it's important for an investor to do thorough research behind the tokens/projects they're investing in.
Different types of Crypto Coins
Top 10 crypto tokens in the world right now are as follows:
Bitcoin           

(BTC)

Ethereum     

(ETH)

Tether            

(USDT)

Binance Coin 

(BNB)

Cardana         

(ADA)

Dogecoin       

(DOGE)

XRP                 

(XRP)

USD Coin        

(USDC)

Polka Dot       

(DOT)

Uniswap         

(UNI)
What is a Crypto Exchange?
Crypto Exchanges are platforms where buyers and sellers meet to trade crypto currency. Binance, Gemini, Kraken, CoinDSC are some popular crypto exchanges. It is important to choose an exchange that allows users to transfer via fiat currencies and allows users to buy using US Dollars.
It is important to pay attention to the prices mentioned while purchasing crypto because the prices may vary greatly in different currencies. Crypto currencies investment can be risky, it is wise to consult a financial advisor before making any investment.
Investors must also do their own homework about different projects/coins, to understand the technology behind them. They must compare different projects based on their performance graph, affordability, and future prospects before choosing a project to invest in.
How to purchase crypto on Crypto Exchange?
Choose an exchange where you want to purchase crypto. Make sure you use the best option available, and choose a reputable exchange available that allows you to make your purchase through more currencies.

Create an account on that exchange. Produce your national and personal ID and complete your KYC. Once KYC is completed, the registration process is complete.

Load your exchange account with fiat currency such as US Dollars depending on how much you intend to purchase.

Decide the cryptocurrency you wish to purchase. A thorough research based on the technology behind, recent performance, and future scopes of that particular crypto is recommended.

Place a buy order on that crypto based on the amount you wish to purchase. Your exchange account will be used to make the transaction.

Once the purchase is complete, the keys to access the crypto is stored in a digital wallet. This wallet may belong to the exchange or an independent wallet provider.
Which are some popular Crypto Exchanges?
Binance:
Binance is a cryptocurrency platform where users purchase, sell, and trade in cryptocurrencies. It is widely popular among crypto traders and Investors. Founded in 2017, Binance has seen huge growth in a short time. It has launched a native crypto coin of its own named 'BNB'. Binance as an exchange provides special discounts for customers who acquire BNB.
Binance facilitates trading in large varieties of cryptocurrencies. You can find major coins like Bitcoin, Ethereum, etc, and various other altcoins as well. Binance has the most liquidity available, and there are buyers and sellers available on the platform at all times.
Binance supports multiple languages so the maximum number of users across the world can invest in the crypto market. Binance offers maximum security to its users with SSL encryption and two-factor data authentication.
 Kraken:
Kraken is one of the oldest and most established crypto exchanges. It is said to be a highly secure exchange for investors. Kraken is a registered MSB (Money Service Business)  with FinCEN, and it has also partnered with the First US Bank to secure virtual currency deposits. Just like Binance, Kraken holds a great reputation for being reliable and safe among its customers. Kraken is also widely popular for its low-cost fees.
This platform enables special trading options for users. Experienced investors utilize the advanced trading tools for margin trading, and stop loss orders and increase their benefits. Kraken allows users to trade a wide variety of crypto currencies such as Bitcoin, Ethereum, Litecoin and many more.
Overall, Kraken is a secure and reputable crypto exchange. Founded in 2011, it has gained an immense amount of trust from its customers.
 You can also buy and sell newly launched tokens with brians club
Which are the most successful Crypto Projects?
Bitcoin (BTC):
Bitcoin has grown to be a household name these days. It was created by Satoshi Nakamoto in 2009. Just like other cryptocurrencies, Bitcoin also runs on a Blockchain. Bitcoin in May 2016 cost $500, but as of January 10, 2023, we evaluated Bitcoin to be worth $17,266 showing an enormous growth rate of 3353%. The current market cap of Bitcoin is estimated to be 400.17 Billion Dollars.
Ethereum (ETH):
Ethereum is the second largest cryptocurrency after Binance. Ethereum is a software-based platform that works for the development and regulation of Decentralized Apps and Smart Contracts. Ethereum works with the aim to make financial products such as loans, insurance, bank accounts, and other products accessible across all nationalities, ethnicities, and faiths. The current market capitalization of ETH is estimated to be 162.8 Billion Dollars.
Tether (USDT):
Tether was launched in 2014 as part of a group of Stable Coins. Stable Coins are those cryptocurrencies that reduce volatility by attaching their value to another currency. Tether pegged its value to US Dollars. Tether has attracted many customers using these tactics where they attempt to smooth price fluctuations and they also offer hassle-free transactions, given Tether doesn't have to be converted into another currency. The current market capitalization of Tether is 66.3 Billion Dollars.
What to take care When buying crypto tokens
Choose a reputable cryptocurrency exchange: There are many exchanges to choose from, such as Binance, Coinbase, and Kraken. Make sure to choose an exchange that is reputable and has a history of protecting its users' assets.

Set up an account: Once you have chosen an exchange, you will need to set up an account. This will typically involve providing your personal information, such as your name and email address.

Verify your identity: Most exchanges require you to verify your identity by providing a government-issued ID. This is to comply with anti-money laundering (AML) and know-your-customer (KYC) regulations.

Add funds to your account: You will need to add funds to your account in order to buy crypto tokens. This can be done by connecting a bank account or a credit/debit card.

Buy the crypto tokens: Once you have funds in your account, you can buy the crypto tokens of your choice. You will need to specify the amount you want to buy and the price you are willing to pay.

Store your tokens safely: After buying crypto tokens, it is important to store them in a safe place such as a hardware wallet. This will protect them from hacking or theft.

Keep an eye on the news: Stay up-to-date on the latest news and developments in the crypto world, as major events can have a big impact on the prices of tokens.
Tips to buying Crypto Tokens:
Do your own research: Before buying any crypto tokens, make sure to do your own research and understand the technology behind it, the team behind the project, and the potential use cases.

Use a reputable exchange: Use a reputable exchange to buy the tokens, such as Binance, Coinbase, or Kraken. Make sure the exchange has a good reputation and has a history of protecting its users' assets.

Use a hardware wallet: To keep your tokens safe, use a hardware wallet such as a Ledger or Trezor to store them offline.

Diversify your portfolio: Don't put all of your money into one coin. Spread your investments across multiple cryptocurrencies to reduce risk.

Be aware of the risks: Cryptocurrency markets are highly volatile and can be risky. Only invest what you can afford to lose and be prepared for the value of your investments to fluctuate.

Keep an eye on the news: Stay up-to-date on the latest news and developments in the crypto world, as major events can have a big impact on the prices of tokens.

Use stop-loss orders: To limit your losses in case the price of a token drops, use stop-loss orders to automatically sell your tokens at a certain price.