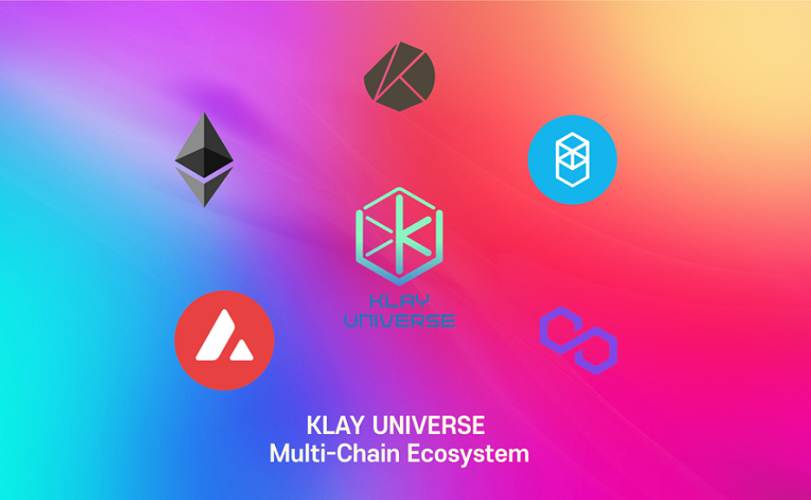 Klay Universe announced that it will support multi-chain by adding Klaytn, Ethereum, Polygon, Avalanche, and Fantom.
A Klay Universe official said that the KUT token supports operation in a multi-chain environment. With this, he announced that the team plans to expand the Klay Universe ecosystem and increase various collaborations and partnerships with several excellent chain ecosystems. He said the group plans to add a token swap function to facilitate the exchange. Through this, he said the team expects to secure as many global users as possible and continue collaborating with excellent projects to advance to a project recognized by users worldwide.
He also announced that the Klay universe team plans to improve the stability and reliability of market data through Chainlink's data feed and create a reliable random number generation (RGN) by using VRF.
The decentralized, adaptable Klay Universe platform was created using the Klaytn, Ethereum, Fantom, and Polygon Network. The UNIVERSE based on Klay Universe is entirely open and has been made available as open-source.
The NFT of Klay Universe, UNIVERSE, allows users to create their own metaverses.
To raise the worth of your own metaverse, you can build one and sell it. Owners are also free to incorporate anything they like, including encouraging people to host events whether or not they have UNIVERSE.
Fantom
A blockchain platform for DeFi, cryptocurrency dApps, and enterprise apps were developed in 2018 and is called Fantom. With their aBFT consensus protocol, Lachesis, Fantom seeks to outperform more established solutions in terms of speed, cost, and scalability. The FTM, the primary token on Fantom, is utilized for network security through staking, governance, payments, and fees.
Polygon
Polygon, also known as Matic Network, was established in 2017 and acts as a framework and protocol for building and connecting Ethereum-compatible blockchain networks. The company was founded by Sandeep Nailwal, Anurag Arjun, Mihailo Bjelic, and Jaynti Kanani.A decentralized international team of contributors created the open-source platform centered in India. The framework creates a multi-chain system out of sovereign and Ethereum blockchains. This multi-chain solution, together with the Ethereum ecosystem, is comparable to others like Polkadot, Cosmos, Avalanche, etc.
Avalanche
The idea of Avalanche was initially presented in a whitepaper shared through an IPFS link on May 16th, 2018, by an unnamed group of developers going by the moniker of Team Rocket. Team Rocket received assistance from Cornell professor Emin Gun Sirer with the analysis and background information for the whitepaper and promoting the protocol. To create a distributed consensus around a blockchain or cryptocurrency system, Avalanche may be used with a number of system control techniques, such as proof of stake or proof of work.
Klaytn
Klaytn is a platform for distributed ledger technology (DLT) that focuses on services at the corporate level. With an immediate block finality, a one-second block time, and the capacity to execute 4,000 transactions per second, the Klaytnmainnet, launched in June 2019, offers a safe, highly scalable, and quick blockchain. The Ethereum Virtual Machine and smart contracts built using the Solidity programming language are also supported by Klaytn (EVM).